News
Multiple opportunities for expanding systems in StackPC and PCI104-Express formats
14.10.2014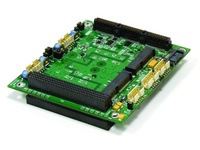 New interface module Fastwel KIC301 is developed to extend the functionality of the CPU modules used in harsh environments and mission-critical applications. The module is designed in StackPC-PCI form factor and is used for the extension of basic CPU module functions in systems based on StackPC, PCI/104-Express standards.
Availability of 2x Mini PCI-E onboard slots for the connection of peripheral devices in Mini PCI-E card form factor and 2x slots for installation of Mini SIM-cards provides system integrators with the highest flexibility and operational efficiency.
The CPU module with the installed KIC301 interface board can be easily integrated into data acquisition and data processing systems. Mini PCI-E (Mini PCI Express) interface enables to install into the CPU module various extension boards, SSDs, wireless modems (GSM, Bluetooth, WiFi), modules of USB, SATA, SMBus, RS232, RS485, RS422 interfaces, digital and analog I/O modules.
KIC301 also has serial port connectors (with galvanic isolation up to 500 V), 1 wire, SATA II (interface supports connection of both standard drives and SATADOM drives) as well as USB.
The new interface module from Fastwel has the operating temperature range: –40°C to +85°C, and is compatible with the following OS: WinXP Embedded; Win7 Embedded; Linux 2.6.