News
СРС1311 - a new COM Express® mini format (Type 10), based on Bay Trail. Small and compact solution with powerful capabilities.
02.03.2015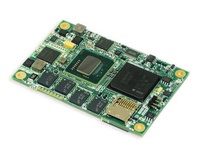 Range of Fastwel COM-modules was expanded with a new CPC1311 module in COM Express® mini format (Type 10).
This innovative product is focused on OEM customers who need nonstandard computers for using them in systems designed for mission-critical applications and harsh environments.
CPC1311 is based on multicore CPU Intel Atom E3800 (Bay Trail) with 64-bit architecture. These CPUs have the following key features: very low power consumption (up to 10 W), support of ECC and powerful graphics controller. In СРС1311, two CPU versions can be used: high-performance CPU based on 4-core E3845 CPU with 1.91 GHz and low-power CPU based on 2-core E3825 CPU with 1.33 GHz.
4 GB RAM DDR3L with ECC support and SDD with 8 GB enables to use СРС1311 module as a standalone embedded PC able to solve most of the application tasks.
This Fastwel product ensures wide multimedia possibilities due to the use of graphics controller with LVDS interface (image resolution up to 2560×1600) and a modern HD audio codec. CPU built-in video decoding functions make it possible to use the module in systems, associated with the processing of multimedia streams.
Developers are free to use a wide range of high-speed interfaces: 1×GbE, 5×USB2.0, 1×USB3.0, 2×SATAII, 3×PCIEx1 (additionally, one PCI Express line can be obtained instead of Gigabit Ethernet). Additional capabilities include integrated support of CAN2.0 bus, required in real-time systems, primarily in transport.
All CPC1311 components are soldered on board, which provides a high resistance of the device to shock and vibration. Optionally, the module comes with conformal coating. СРС1311 has the following operating temperature range: from –40°C to +85°С.
СРС1311 supports the most popular OS: Linux3.8, Windows Embedded Standard 7 and 8, as well as QNX6.х.
Application of Intel CPUs ensures long-term availability of СРС1311 — up to 10 years (and even more — by a separate agreement). Pilot batch of СРС1311 modules will be manufactured in the second quarter of 2015, but even now customers could use serial СРВ907 module, which is made in the same form-factor.
About Fastwel
Fastwel for more than 15 years has been one of the leading companies developing and manufacturing rugged Single Board Computers for mission-critical applications in transport, military and defense, security and telecom. We deliver CPU modules for aerospace equipment, industrial automation and process control systems. Besides standard products manufacturing, Fastwel offers a full range of OEM and ODM services. To learn more, visit www.fastwel-inc.com .