News
Octagon MicroPC System Upgrade Using Fastwel CPC152 Vortex 86DX 600MHz Embedded Module
03.04.2015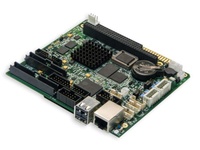 The manufacturing of СРС152 CPU Module based on Vortex 86DX CPU 600 MHz has been launched. This new product is designed for industrial control systems, including smooth replacement of OCTAGON SYSTEMS computers withdrawn from production.
Using СРС152 board enables system integrators to solve several tasks at the same time, primarily those related to the extension of life cycle of the process management systems, based on the boards in MicroPC format. This product is planned to be available on the market for a long period (no less than 5-6 years), for special project requirements – up to 10 years. The module was designed with a consideration of maximum compatibility with Octagon Systems CPU boards, widely used in low level industrial control systems in mining, process control and manufacturing industries.
At the same time, in terms of functionality, СРС152 is among the most up-to-date computers for embedded systems. The CPU performance allows working out the most complex algorithms of process management in real-time. Soldered SSD with 2 GB enables to install operating system directly into the board, and in most cases – not to use external SSDs at all. For applications requiring storage of large data volumes (parameter archives, trends etc.), the module is equipped with CompactFlash slot and a port for external hard drive.
The board is easily integrated into automation systems due to the built-in communication interfaces. Four СОМ-ports have galvanic isolation and ESD protection thereby the module can be used under workshop conditions with high interference level. Fast Ethernet interface which can be used by СРС152 for exchanging information with the upper level industrial control systems also has galvanic isolation of up to 500 V. Four USB 2.0 ports are used for the connection of standard РС-compatible peripherals, as well as e.g. for servicing external process interface units.
For implementing process tasks, СРС152 can be combined with both I/O modules in MicroPC format, and mezzanine boards in РС104 formats. For this purpose the board has a relevant connector, which combined with the external power supply connector, makes it possible to use СРС152 in onboard systems and special-purpose systems. An integrated video interface supporting two independent displays and resolutions up to 1920х1440, helps developers to reduce dimensions and power consumption of terminal device. In addition, the developers of the onboard systems will be happy to know that the module is equipped with temperature sensor board, barometer and accelerometer to control operating conditions.
Due to the fully soldered components, СРС152 withstands high mechanical loads, and its conformal coating (option) makes it possible to use the board under high humidity conditions. The module has a traditional operating temperature range: -40/+85'C.