News
Build you On-board System with MK308 from Fastwel
03.06.2014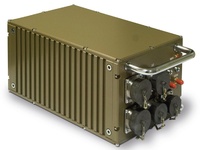 Range of Fastwel onboard computers was extended by MK308 Box PC.
MK308, PC104 based Computer with cost-effective innovative conductive cooling is designed for the use in management information systems of different types of vehicles, including crawler vehicles.
МK308 is based on Intel Atom D510 dual-core processor 1,66 GHz, which performance is sufficient for solving complex computing and mapping tasks. VGA and LVDS video interfaces supporting resolution of up to 2048×1536, make it possible to use the new Box PC along with a wide range of rugged monitors and display video information with a high definition level. For storing map data it is possible to install CompactFlash SSD. Land navigation of the vehicles equipped with МК308 is provided by GPS/GLONASS module.
The PC is easily integrated into the onboard management information system due to two Gigabit Ethernet channels. In order to control such peripherals as equipment condition sensors and security devices, RS-232/485/422 and CAN interfaces are available. For connection of PC-compatible peripherals there are three USB 2.0 ports, and for a remote data exchange – GSM/GPRS and Wi-Fi modules.
Modular structure of МК308, which supports installation of up to seven PC/104+ extension modules, allows to rapidly changing the product specification at customer's request.
MK308 has a key feature – its conductive cooling system, which enables to remove an excessive heat from each of the modules to the enclosure without the use of forced air cooling. Moreover, the heat removal system provides the product with additional mechanical resistance. In this case, the new Box PC has IP65 protected enclosure. Standard version of МК308 has the operating temperature range from -40 to +70 °С.
MK308 basic hardware configuration contains:
CPC308-03 Intel Atom D510 based Processor Module;
CNM350 Communication and Navigation Module;
NIM351 Interface Module;
NIM353 WiFi Module;
PS351 Power Supply Module;
The new product supports both standard operating systems and Astra Linux- special purpose protected operating system, designed for processing of information, up to and including top secret information. The computer may be supplied with operating system, preinstalled into the soldered Flash-drive of CPU module (4 GB).
Primary Contact: Nikita Danilov (Key Account Manager, Fastwel)
E-mail: danilov.n@fastwel.com