News
Fastwel: PCI-Express is now departing from PC/104 station. The developers are asked to take their seats…
04.03.2014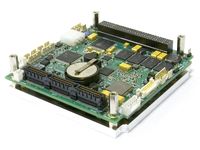 СРС309 CPU board is now available in StackPC-PCI form factor. It is designed for developers of on-board equipment in РС104/РС104-Plus standards, which stipulate high speed and performance.
СРС309 is based on a powerful Intel Atom D510, 1,66 GHz Dual-Core CPU. The board's total heat dissipation is 15 W. Soldered CPU is equipped with 2 GB RAM and 4 GB SSD. This technology provides high resistance to mechanical loads typical for operating conditions of aircraft and on-board equipment in land transport.
The following multimedia functions as: 2D/3D accelerator, support of displays with resolution up to 2048х1536 and HD audio signals, stand out CPC309 from the other competitors. Apart from the soldered drive, CompactFlash socket and two SATA II channels with the data exchange speed up to 300 MB/s can be used for storing programs and data. Data exchange with the upper control level is ensured by two Gigabit Ethernet channels. These channels can be used for duplication of control data flows. Peripheral devices can be connected via two proven serial ports and via eight USB 2.0 ports.
CPC309-based system functionalities can be expanded by installing mezzanine boards. System integrators can use the approved technologies based on PCI-bus and install up to 4 PCI104 format mezzanine boards, or use all the capacities of a high-speed serial PCI Express bus (4-x channels х1), available via StackPC connector. Moreover, this connector enables the use of 2x Gigabit Ethernet channels, 6 x USB 2.0, 2 х SATA, SMBus and LPC, which makes it a perfect solution for your system. In such a case, the developers can use standard mezzanine boards of other manufacturers in PCIe/104 and PCI/104-Express formats which process only the first bank signals.
СРС309 has the following operating temperature range: from - 40°C to +85°C (with the heat sink or conductive heat removal). Custom-made boards –with the lower operating temperature limit of - 50°C are available.
About Fastwel
Fastwel for more than 15 years has been one of the leading companies developing and manufacturing rugged Single Board Computers for mission-critical applications in transport, security and telecom. We deliver CPU modules for aerospace equipment, industrial automation and process control systems. Besides standard products manufacturing, Fastwel offers a full range of OEM and ODM services. To learn more, visit www.fastwel.com.