News
New Fastwel PC/104-Plus Intel Atom N450/D510 based SBC - CPC308. Get a Quote Now!
26.06.2012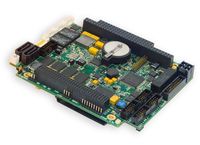 Fastwel CPC308 – SBC with low heat emission, integrated graphics and wide range of communication interfaces.
CPC308 is based on Intel Atom N450/D510 1.66GHz processor with up to 1 GB DDR2 SDRAM. The module includes CompactFlash socket, two Gigabit Ethernet channels, four USB ports, two SerialATA ports, four serial ports, GPIO and NAND Flash drive.
Thermal design allows using both air and conductive cooling.
CPC308 Environmental conditions: operating temperature range -40°C to +85°C; humidity 0% to 80%, non-condensing; single/multiple shock stability up to 50g; vibration up to 5g.
Fastwel PC/104-Plus SBC CPC308 can be considered for your systems' design along with other PC/104 CPU and extension boards from Fastwel.
We are looking forward to your requirements and ready to provide you with necessary technical support.