News
PoE Technology to Use with Fastwel Equipment
30.11.2015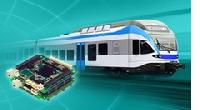 An architecture of Ethernet-based distribution systems, where terminal devices (mainly video surveillance cameras) use the same cable for power supply, has gained popularity. Such a solution was called the Power-over-Ethernet (or PoE). Fastwel offers its customers two new devices that use the above technology. These are: Network Embedded Module NIM354 and Rugged Gigabit Ethernet Network Switch NM350.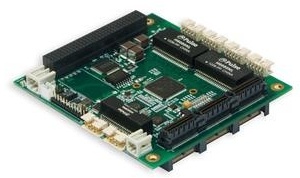 The devices could be used in real-time, production control, high-speed data acquisition (particularly in video surveillance systems with power supply via PoE).
These new products are focused on those who use video recording systems with the data exchange rate of 1 Gigabit/s and power supply over the same cable.
NIM354 module uses a high-speed multi-channel Gigabit Ethernet I/O interface with a possibility of PoE support (Power over Ethernet) – technologies of provision power supply over Ethernet data transfer lines (connection up to 4x PoE devices).
NIM354 is designed as an addition to computing systems on the basis of StackPC format, for building various network systems with supplying power to the devices via PoE, corresponding to any class of IEEE 802.3af standard. E.g., a video surveillance system with 4 cameras: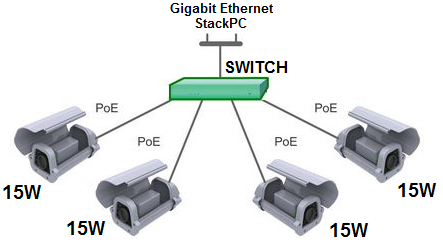 Building systems based on NIM354 with PoE support requires an external power supply source of +48 V. In this case the use of PS352 power supply module is recommended. The power supply module is implemented in StackPC-PCI format.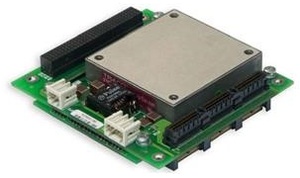 PS352 can be used within the system with PSE (Power sourcing Equipment) for supplying power to modules with PoE technology. PS352 is designed for operation in harsh environments. The structure of PS352-01 enables to connect it to StackPC modules.
On the basis of NIM354 and PS352, users can either individually develop network devices for particular application areas or consider the commercially available Rugged Gigabit Ethernet Network Switches NM350.
NM350 is a complete solution with six Ethernet channels (4x ports with PoE support), designed for the use in the data acquisition and processing systems, operating in harsh environments.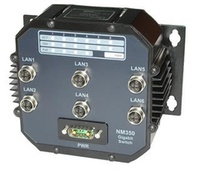 One of two additional channels (without PoE) can be used for connection to server, while the other one – for connecting the other NM350 switch, which in turn, enables to connect the next one. Therefore, a serial cascading of network switches can be carried out. This type of switch connection can be useful when creating a video surveillance distribution network in public transport (NM350 is compliant with EN50155).
The device receives power via the front D-Sub connector using an integrated voltage converter. With no connected devices, the switch dissipates less than 9 W, which enables not to use an additional external cooling.
Due to the use of industrial connectors M12 and IP65 (dust and moisture protection), the switch can be installed outside the communications boxes, directly in the open air or in manufacturing facilities, as well as in ship and railways automatic systems.
Stable and reliable work of the mentioned devices makes it possible to use them in industrial applications. Components, on which the above devices are built, have been thoroughly selected using their criteria of applicability in embedded systems. This improves the reliability of the device, which makes it available for use in long-life cycle systems.