News
Rugged Gigabit Ethernet Network Switch NM350
13.01.2016

NM350 Gigabit Network Switch is a complete device with six Ethernet channels (4x ports with PoE support), designed for the use in the data acquisition and processing systems, operating in harsh environments.
The device receives power via the front D-Sub connector using an integrated voltage converter. With no connected devices, the switch dissipates less than 9 W, which enables not to use an additional external cooling.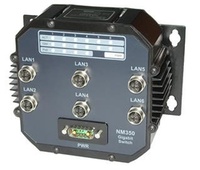 One of two additional channels (without PoE) can be used for connection to server, while the other one – for connecting the other NM350 switch, which in turn, enables to connect the next one. Therefore, a serial cascading of network switches can be carried out. This type of switch connection can be useful when creating a video surveillance distribution network in public transport (NM350 is compliant with EN50155).
Due to the use of industrial connectors M12 and IP65 (dust and moisture protection), the switch can be installed outside the communications boxes, directly in the open air or in manufacturing facilities, as well as in transport, such as ship or railways.

Integrated switch for 6 Gigabit Ethernet channels, operating at the channel (second) level of OSI model;

4 ports with support of PoE PSE technology via IEEE 802.3af standard; compatibility with devices up to 15.4 W per channel;

M12 industrial connectors;

Dust and moisture protection: IP65;

Operating temperature range: from - 40º С to +70º С;

EN50155 Compliant.