News
Rugged CAN Interface Module for on-board automatic control systems – NIM355
07.10.2016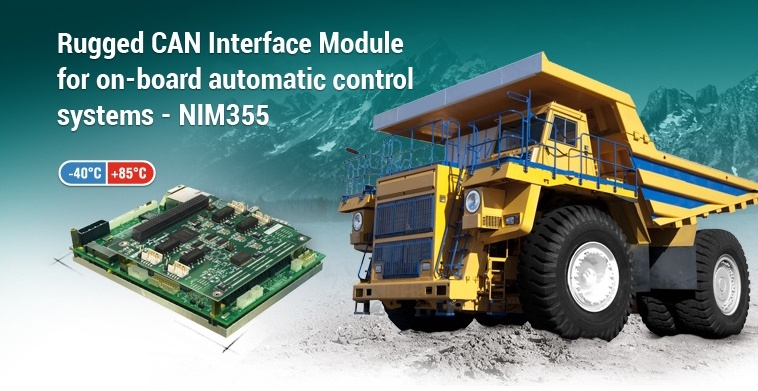 StackPC-PCI Interface Module NIM355 - is designed for use in on-board automatic control systems of the ground vehicles and is intended for expansion of basic functions of CPU modules (EX: CPB909), developed on the basis of StackPC, PCI/104 or PCI/104-Express standards.
The module ensures integration of computers within CAN network, with a possibility of additional connection of up to 4-x digital input lines and 4-x digital output lines. Due to the availability of 4-x isolated CAN 2.0a/b channels, the module is considered to be a good alternative and can substantially save costs and reduce size of the devices, built on the basis of NIM351 modules. From the standpoint of application software, runtime libraries of CAN-adapters for NIM355 are fully compatible with the similar library of NIM351.
NIM355 can be supplied with drivers for the following operating systems: Windows XPe, Linux 2.6.x, QNX 6.5.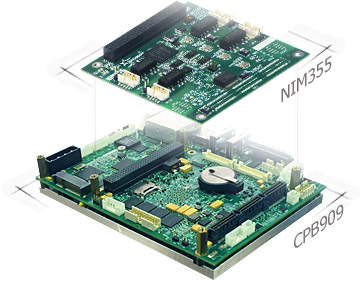 The module is implemented in accordance with the StackPC-PCI standard. Data exchange with CPU Module is carried out via PCI bus (PC/104+ connector). StackPC connector is a passing one (only power supply circuits are activated).
Main features of the module
System bus PCI 32-bit / 33MHz

4x channel CAN:

4x channels of digital input, 24V

4x channels of digital output, up to 48V

Operating temperature range: - 40 … + 85°С

Software compatibility: Windows XPe, Linux 2.6.x, QNX 6.5
Module is implemented in two versions:
NIM355-01 – version with an entire range of interfaces and components (4хCAN, 4xDI and 4хDO);

NIM355-02 – version without StackPC connector (providing possibility of using the module in PCI-104 and PC/104-Plus(PCI) stacks), without 4xDI and 4хDO interfaces.