News
Fastwel Continues to Manufacture Modules Based on AMD LX800 CPUs
30.10.2017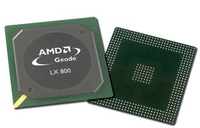 Advanced Micro Devices, Inc. has extended the availability of LX800 CPU. This CPU version will be sold and supported up to and including the fourth quarter of 2019.
Below are computers based on AMD LX800 currently manufactured by Fastwel:
CPC304 is a PC/104-Plus embedded SBC designed for the use in mission-critical onboard systems. CPC304 architecture is based on the AMD Geode LX800 processors and supports expansion cards, connected through a full-featured 16-bit ISA bus and 32-bit PCI bus.
CPB905 is a 3.5" SBC designed for embedded applications that require high performance and low power consumption. Extension of the module's functionalities is possible by the connection of additional modules with PC/104 and PC/104-Plus interfaces.
CPB904 is a computer module made in the ETX format. The hardware peripherals are connected to the module via the carrier board, developed in accordance with the additional documentation. The module contains serial ports, an IDE hard drive port, a combined printer/FDD port, four USB ports, a PS/2 keyboard and mouse port, a video port and a 10/100 Base-T Ethernet port.
CPC108 is a single-board computer made in the MicroPC format. The module contains: a connector and a strip for connecting Compact Flash devices and Disk On Chip, Ethernet channel, four USB ports, HDD port, four serial ports, and ensures the support of a video port, two CAN interface ports, PS/2 port for keyboard and mouse, sound devices and an external opto-isolated reset. The module's functionalities can be expanded when connecting additional modules with a MicroPC interface.
All Fastwel modules are compatible with the following operating systems: FreeDOS, QNX, Windows, Linux and support operating temperature range from -40 to + 85 °С.
The Fastwel modules are designed to build computer systems with a high degree of protection against environmental impacts and combine compact dimensions and high computation capacities. The systems that are based on them can be used to collect and process data, working with video information, in telecommunications, for the organization of computer networks: these can be devices for video communication, test and medical equipment, traffic control systems, access protection and control systems, business process management systems.