News
MIC1007 - New Mezzanine Board for DIC551 CompactPCI Serial Mezzanine Carrier Module
06.09.2019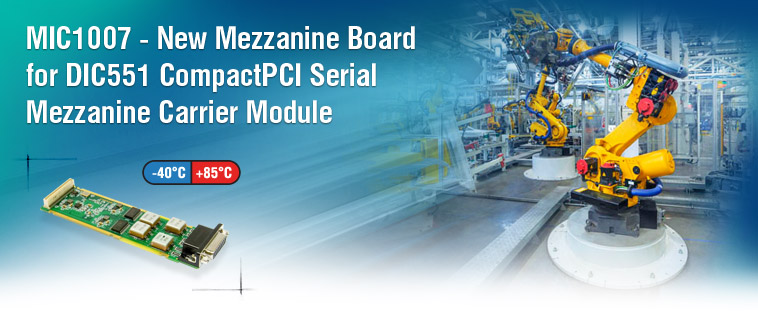 A set of mezzanine modules, ensuring communication on different types of interfaces, was added with a new board. MIC1007 is used to exchange and control of Data transmission over a multiplex data exchange channel.
The mezzanine has two independent channels with redundancy support. Each channel can act as a bus controller, terminal device or a monitor. To link the mezzanine to the carrier used SPORT interface supports DMA mode.
The multiplex data exchange channel protocol better known as MIL-STD-1553B, initially got a widespread use with the avionics onboard systems, and then gained popularity in various other applications. The MIC1007 mezzanine module provides developers with an access to a popular protocol for real-time systems, onboard systems, security and communications features, manufacturing control, data collection and other mission-critical applications.
MIC1007 either supports 2x channels with redundancy or 4x channels with no redundancy, provides the option of a connection via a transformer or direct connection to a line with a data transmission rate of 1 Mb/sec. Mezzanine can work under Linux or QNX.
Therefore, the DIC551 Mezzanine Carrier Module, which supports the installation of up to two mezzanines of MIC10xx, can be equipped with 4x COM-ports (MIC1002), 48x digital I/O channels (MIC1003), 4x channels of the "current loop" type (MIC1004) or multiplex data exchange channel interface (MIC1007). All the modules provide reliable operation under harsh operating conditions, withstand shock and vibration, and ensure safe operation in the temperature range from 40 to +85°C.