News
Fastwel Represents DIC551Universal Communication Module in CompactPCI Serial Format
16.03.2020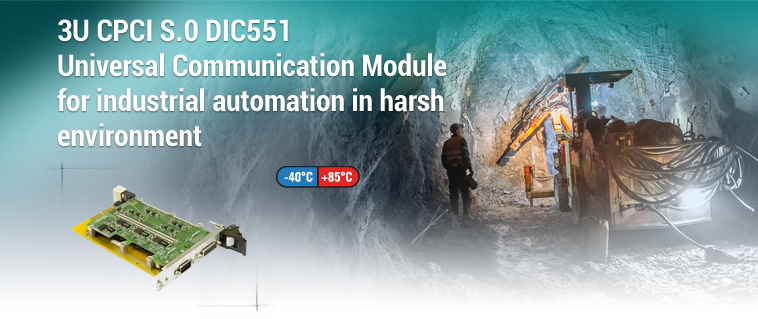 The DIC551 Module is a universal mezzanine carrier board and is designed for arranging input/output analog and digital information channels in CompactPCI®Serial format systems. The module's functionalities is determined by a set of installed mezzanine boards (up to two boards in a single module). The mezzanine communicates with the carrier board using serial or parallel communication channels, such as SPI, SPORT, UART, etc.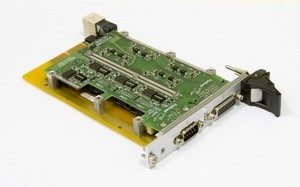 A set of available mezzanines include the following devices:
MIC1001 contains 32 input channels and 16 analog output channels, 5 voltage measurement ranges from 0.625 to 10V. 16-bit ADC with a conversion time of 4 µs. 16-bit DAC with a transition time of 6 µs. The channels have galvanic isolation and static voltage protection.
The MIC1003 enables to use 48 digital I/O lines with galvanic isolation, static electricity protection, frequency measurement and contact de-bouncing functions.
MIC1004 contains 4 independent configurable Current Loop channels with galvanic isolation and static electricity protection. The interface enables data transfer at speeds up to 19200 baud and is compatible with the UART 16550A standard. Active and passive operation modes are supported.
MIC1007 has 2 redundant channels of the Multiplex Data Exchange Channel interface (GOST R 52070-2003, MIL-STD-1553B) with galvanic isolation. The module can operate in bus controller, terminal device, or monitor modes and supports DMA transactions.
The MIC1010 provides 4 channels of the CAN 2.0 B bus with individual galvanic isolation. The data exchange rate is configurable, up to 1 Mbit/s, and message double buffering is supported. The module supports DMA transactions and is connected to the carrier board via the SPORT interface.
MIC1011 has 4 independent configurable RS232 or RS422/RS485 ports with galvanic isolation and static electricity protection. The interface is compatible with UART 16550A and provides a maximum data transfer rate of up to 115200 baud.
MIC1012 adds 6 lines of ARINC429 (GOST standard 18977-79) serial code and 6 lines of one-time commands (GOST standard 18977-79) to the system with galvanic isolation of the digital part. Operation in the bus controller, terminal device, and bus monitor modes is supported.
The DIC551 Universal Communication Module is available in two versions: with convection (DIC551) or conduction (DIC551RC) cooling. The device is designed for working in harsh operating conditions and can be used in real-time control systems, security and communications, for automation of manufacturing processes, as well as for data acquisition and management in fixed and on-board applications.