News
AdvantiХ (Powered by Fastwel) Innovations: High-Performance Industrial Mini-PC WS-2000 with 4-x Core CPU
08.07.2020
Advantix (Powered by Fastwel) presents a new product - high-performance industrial mini PC WS-2000 of a wide application. Due to its perfect technical characteristics, the WS-2000 can be used in various automation systems, robotics, and as a part of smart home systems, video conferencing, ACS, or as a thin client.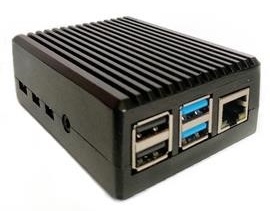 WS-2000 is a mini PC based on the Broadcom BCM2711 CPU, Cortex-A72 @1.5 GHz and GPU Videocore VI 500 MHz, implemented in a rugged metal enclosure with a conduction heat dissipation. The RAM volume can be selected by ordering – 1 GB, 2 GB or 4 GB.
WS-2000 is equipped with a wide range of interfaces, including such popular ones as USB 2.0, USB 3.0, Gigabit Ethernet, Audio, WiFi, Bluetooth 5.0 in addition, the mini PC has 2 microHDMI ports, which makes it possible to connect 2 monitors with a 4K resolution. Inside the enclosure, there are MIPI DSI and MIPI CSI connectors for the display and video camera, respectively. The GPIO 40-pin connector makes it possible for you to connect a variety of sensors, displays, controls, programmable microcontrollers, and other devices to the WS-2000 microcomputer.
The WS-2000 operates in an extended temperature range from -40°C to +60°C. Power supply (5V, 3A) is connected via the USB Type-C connector.
Advantix experts believe that the compact and cost-effective WS-2000 microcomputer with a large set of interfaces and support for the industrial operating temperature range will find application in a variety of industrial automation areas.