Application Examples
Use 3U CompactPCI Intel Core 2 Duo based SBC to build your security system!
06.09.2012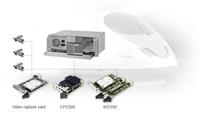 Overview
CPC506 is a PICMG 2.30 (CompactPCI® PlusIO) compliant 3U module based on Intel Сore 2 Duo CPUs (from long term manufacturing program) operating at up to 2.2 GHz with 4 MB level 2 cache, featuring 800 MHz system bus and 965GME/ICH8M chipset. The processor executes up to 8 floating point operations per clock cycle and can address up to 4 GB of soldered DDR2 system memory in 64bit mode. The CPU board provides an excellent graphics performance and is designed especially for embedded systems which require high computing performance with low power consumption.
CPC506 allows to use 32bit PCI bus together with intermodule communication for high-speed data exchange: two Gigabit Ethernet channels, four x1 PCI Express lanes, 4 USB channels. Using this standard it is possible to make hybrid CompactPCI system, which allows to use both legacy periphery (PICMG 2.0) and the periphery in the new PICMG CPCI-S.0 (CompactPCI® Serial) standard with serial interfaces. In this case we can add to standard CPCI functionality new features, like organize storage systems with RAID support, or video capture systems, add additional graphic boards and communication modules.
The graphics controller of Intel 965GME supports output of two independent video streams to two DVID interfaces (8HP or 12 HP modification) or to standard VGA interface. The firmware of CPC506 supports booting from LAN, from SD cards, from soldered 4 GB flash memory disk, or HDDs, installed on CompactPCI Plus carrier (KIC550) with SATA support, or from drives located on MIC584 mezzanine module. The MIC584 mezzanine module supports SATA II interface with option to mount 1.8" SATA disk drive, SATA DOM solidstate modules and also offers six COM ports, two USB 2.0, PS/2 and audio interfaces.
CPC506 supports Windows XP/XP Embedded, Linux, QNX operating systems.
CPC506 is suitable for a wide range of industrial applications, e.g. for monitoring, vision and control systems as well as test and measurement. Main target markets comprise industrial automation, railway and transportation, aerospace, shipbuilding, medical, engineering and robotics.
Case study
Train Surveillance Systems
Project Introduction
Public transport plays an important role in the life of a human being. In recent years, there have been a lot of untoward accidents) happening all across the world-wide, which raises the basic question about the safety of public transportation system. The threat from Natural disasters have been intimidating people and there is an growing need to provide adequate security to the people using public transport. Transportation security and safety enhancement is a one of the important tasks. There are clear surveillance and security requirements on-board of trains, in station platforms, buildings and on surrounding property, where any potential risks to the safety and security of passengers, staff and transport infrastructure shall be decreased
Requirements
To ensure effective work in train, surveillance systems must incorporate the following: Simultaneous 4 or more channel preview, encoding, storing. Operation in the conditions of the increased vibration and shock. Easy integration, easy maintenance. Rugged and easily mounted. High Performance handling with graphic intensive capabilities.
Solution
FASTWEL CPC506 — the combination of host processors with 2 or 3 extension modules — FASTWEL KIC550 (to organize storage with RAID), up to 4 video capture boards and power supply FASTWEL PS550 embedded in CPCI to CPCI Serial Hybrid Rack, featuring compression video encoding to provide the best video frames and support for multi-channel streaming, is the solution for harsh environments.
Conclusion
The CPCI system based on CPC506 is a Surveillance Systems, intended for operation in harsh environment, can enhance transportation security and safety.