Products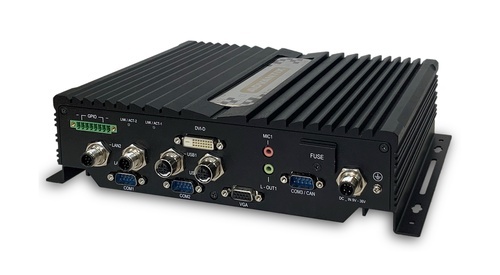 Fanless Transportation Embedded Computing System
ER-MTR3000 (Advantix - powered by Fastwel)
CPUs: Intel Atom Processor E3845 1,91 GHz;
RAM: 2x 2 GB DDR3L-1333 SO-DIMM (Dual Channel);
GPU: integrated IntelHD for Intel Atom CPU (Z3700 series);
Network: 2x M12 GbE
Operating temperature range: from -40°C to + 60°C (with SSD);
Power supply: 9V~36V / 72V / 110V DC (as option);
OS compatibility: Microsoft Windows 7/10, Linux;
Weight: 2.6 kg;
Sales & technical support
The ER-MTR3000 (Advantix -powered by Fastwel) fanless computer is designed for use in railway transport. The device can be operated in a 24/7 mode, unattended, in the extended operating temperature range. The device is equipped with М12 network and USB ports, a wide range of power supply voltages, as well as expansion and modification capabilities. Available for order until 2022+.
ER-MTR3000

Embedded computer based on the Intel Atom E3845 1,91 GHz / 4GB DDR3L/ 240 GB SSD / power supply unit 120 W (for testing purposes);

ER-MTR3000-XXX

Custom configuration in accordance with the customer requirements. Delivery time – from 2x weeks (depending on components availability);
Fields marked with symbol "*" are required to send the request to Support.