Products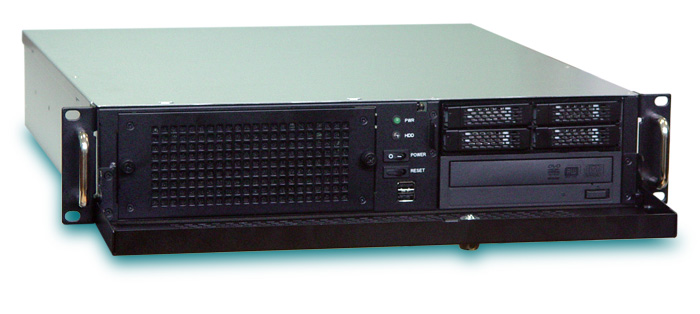 2U High-Performance ACS Operator's Workstation
IPC-2U-SYS9-A10 (Advantix - powered by Fastwel)
- CPU: Intel Pentium G5400/Core i3-8100/Core i5-8500 etc;
- RAM: up to 64GB, 4 x DIMM DDR4, ECC/non ECC;
- GPU: integrated GPU Intel HD Graphics 610/630, DX 12;
- Chipset: Intel C246;
- Network: 2 х Ethernet 10/100/1000 Intel i219LM, i210AT,
support of WoL (Wake-on-Lan), PXE,T eaming, iAMT 12;
- Power supply: 400W or 700W as a single unit, or 400/450W
as redundant PSU (as option);
- Operating temperature range: +5°C … +40°C;
- Dimensions: 460 (D) * 483 (W) * 89 (H);
- OS compatibility: Windows 10 x64, Linux x64;
Sales & technical support
The IPC-2U-SYS9-A10 (Advantix – powered by Fastwel) workstation is optimized for mounting to the 19" racks, where it occupies 2U high section. At the same time, the enclosure's depth is only 460 mm. The dustproof filter is available for replacement from the front panel in the Hot Swap mode, as are the 2 x 80 cm system fans. The device is equipped with an enclosure opening monitoring option: 3 x built-in opening sensors track the opening of the upper cover of the enclosure, the ventilation unit, and the front door of the enclosure. The workstation is based on an industrial mATX standard motherboard with the Intel C246 system logic set. The system has 4 low-profile expansion slots. In addition, the platform has a welldeveloped disk subsystem and advanced network capabilities - the basic device basic configuration is delivered with an integrated SATA RAID 5 controller and 2 x Gigabit integrated network adapters. There are 2 x USB ports on the front panel.
IPC-2U-SYS9-A10

2U High-Performance ACS Operator's Workstation / Intel Pentium G5400 or Core i3-8100 or Core i5-8500 or Core i7-8700 / RAM: up to 64GB, 4 x DIMM DDR4, ECC/non ECC, single-channel or two-channel / integrated GPU Intel HD Graphics 610/630, DX 12 / 400W or 7
Fields marked with symbol "*" are required to send the request to Support.