White papers
StackPC Standard of Embedded Stackable Systems Design
20.07.2015
The StackPC Specification defines the approach to stackable systems design and development. The specification includes all valuable heritages of PC/104 standards along with the features of StackPC connector***.
---
***StackPC Expansion Connectors A, B
• Connector A
PCIe/104 compatible pinout
BANK 1: 4x PCIe x1, 2x USB, SMB
BANK 2,3: 1x PCIe x4, 2x SATA, LPC, 2xGbE, 4x USB, SPI, CAN/RS485/UART
• Connector B
PCI/104 or FPE (Fat Pipe Expansion)
PCI/104: 32-bit PCI 4 masters
FPE: PCIe 1x16/2x8/2x4, Display Port, 6x USB 3.0 or 61x UserIO
PC/104, PC/104+wings, EPIC, EBX, 3.5" Adopted
---

4 Key Innovations Implemented in StackPC Form-Factor: New system approach, compatibility with other Stackable specifications, COM-type application of StackPC modules and new approach to ruggedize system development.
1. New system approach
Stack Up Only

Easy schematic (No signal switches)
No strict height limitation for CPU & Power modules, bottom side
Interface module as a standard part

Compatibility with PCIe/104
Communication interfaces support through the stack connector

Minimization of wired connections

Standardization to System power connector
New areas of stackable modules application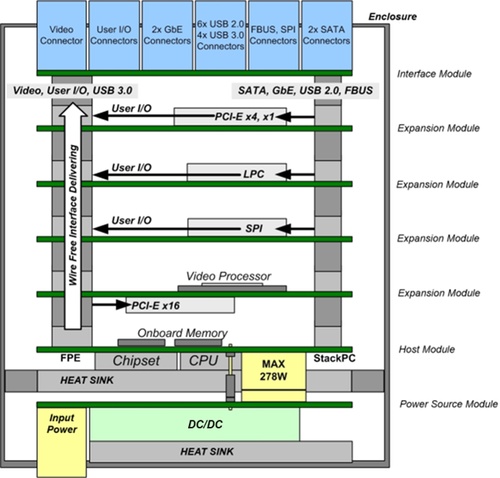 2. Ruggedized systems orientation
Design

IP20, IP65, IP67 enclosures
Cost effective conduction cooling
Interface module as a standard part
Ease of assembly and maintenance




Compatibility with PC/104-Express

BANK1 is fully compatible
BANK2, 3 has levels of full compatibility

Communication interfaces support through the stack connector

Minimization of wired connections
3. Compatibility with other Stackable Specifications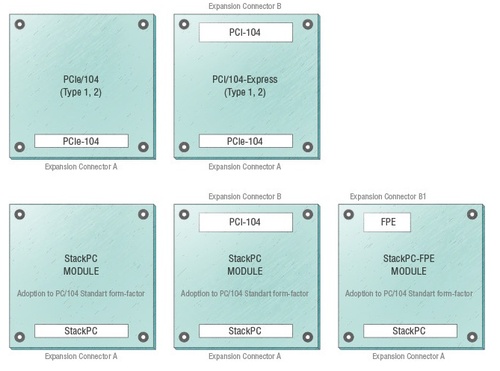 Compatibility with PCIe/104 and PC/104-Express connectors
Compatibility with PCI/104
4. COM application
StackPC Host as COM-module

One side Stack
One side heatspreader
COM required interfaces: 4x PCIe x1, 1x PCIe x4, 2x SATA, LPC, 2x GbE, 6x USB, SMB, SPI, CAN/RS485/UART
PCI: 32-bit PCI 4 masters
FPE: PCIe 1x16/2x8/2x4, DP, 6x USB 3.0 or 61x UserIO

StackPC Peripheral as COM-expansion
Easy to design StackPC carrier board