СРС1301 is a PICMG COM Express Module with size 95×125 mm (Basic format).
Based on Intel® Core® 2 Duo/Core Duo/Core Solo CPUs up to 2.16 GHz with 533/667 MHz front side bus and Intel chipset comprising 945GM GMCH and ICH7M. Memory interface supports dual DDR2 SDRAM through two SODIMM sockets with total capacity of up to 4 GB.
Multimedia functions are supported by interfaces for CRTmonitor, flat panels with dual LVDS interface (resolution up to 2048х1536) and AC'97 audio codec. External graphic adapters can be connected through x16 PCI Express interface.
Gigabit Ethernet channel makes this board perfect for developing communication intensive applications.
Peripheral devices can be connected to СРС1301 through PCI Express interfaces, 8 highspeed USB 2.0 ports, LPC, AC'97.
CPC1301 storage subsystem supports two SATA and one IDE Ultra ATA/100 disk drives.
CPC1301 supports Suspend-to-RAM mode.
For performance evaluation and application stack development, Fastwel provides development board - KIB1280, which gives access to all features of CPC1301 and facilitates software and hardware design. Additional reliability of СРC1301 is provided by hardware monitoring, watchdog timer, reserved CMOS memory and a set of system monitoring features.
CPC1301 operates in industrial (-40°C to +85°C) and commercial (0°C to +70°C) temperature ranges*.
CPC1301 EOL INFORMATION
KIB1280 - ATX form-factor compliant carrier board for PICMG COM Express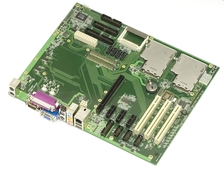 Interfaces
VGA, SVideo, LVDS
1×GbEthernet 10/100/1000BaseT RJ45
1×16 PCI Express, 3×1 PCI Express, 3×PCI
6×USB2.0
IDE UltraATA, 4×SATA, CF Type I/II socket with IDE interface
2×COM232, LPT, FDD, PS/2
2×ExpressTM Card slots
Audio line in/out, MIC
IrDA, LPC interface, SMBUS, PLCC, fan connector, control&signalling interfaces and LEDs, ATX power supply.
Guidelines for designing COM Express™ Carrier Boards
* - for CoreSolo based configurations only
CPC1301-01-C2D1.5-C\SC-SODIMM-DDR2-2048-C\R5F
COM-Express, Basic,TypeII pinout: LVIntel Core 2 Duo 1.5GHz,667MHz FSB,Intel945GM/ICH7,2GB DDR2 SDRAM SODIMM installed, 5x1PCI Express,1x16PCI Express,PCI,8USB,4SATA,IDE ATA100,CRT,AC'97Audio,OperatingT 0..+70'C\radiator w/long side ribs and fun
CPC1301-01-C2D1.5-I\SC-SODIMM-DDR2-2048-I\R5F
COM-Express, Basic,TypeII pinout: LVIntel Core 2 Duo 1.5GHz,667MHz FSB,Intel945GM/ICH7,2GB DDR2 SDRAM SODIMM installed, 5x1PCI Express,1x16PCI Express,PCI,8USB,4SATA,IDE ATA100,CRT,AC'97Audio,OperatingT -40..+85'C\radiator w/long side ribs and fun
CPC1301-01-CD1.66-C
COM-Express, Basic,TypeII pinout: LVIntel CoreDuo 1.66GHz,667MHz FSB, Intel945GM/ICH7, 5x1PCI Express,1x16PCI Express,PCI,8 USB,4 SATA, IDE ATA 100, CRT, AC' 97 Audio, Operating T 0...+70'C
CPC1301-01-CS1.06-C\SC-SIDIMM-DDR2-1024-C
TRIAL LOT COM-Express, Basic,TypeII pinout: LVIntel Core Solo 1.06GHz, 533MHz FSB, Intel945GM/ICH7, 1GB DDR2 SDRAM SODIMM installed, 5x1PCI Express,1x16PCI Express,PCI,8 USB,4 SATA, IDE ATA 100, CRT, AC' 97 Audio, Operating T 0...+70'C
CPC1301-01-CS1.06-C\SC-SODIMM-DDR2-2048-C\R
COM-Express, Basic,TypeII pinout: LVIntel Core Solo 1.06GHz, 533MHz FSB, Intel945GM/ICH7, 2GB DDR2 SDRAM SODIMM installed, 5x1PCI Express,1x16PCI Express,PCI,8 USB,4 SATA, IDE ATA 100, CRT, AC' 97 Audio, Operating T 0...+70'C, heat spreader