Application Examples
EPIC Intel® Atom SBC CPC805 RUGGED HEART OF YOUR ROBOTICS
03.09.2013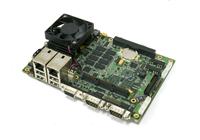 Overview
CPC805 is designed for the systems requiring reliable embedded computers combining small size and high performance. Such systems can be used for data acquisition and processing, for video processing, in telecommunications, for building computer networks, etc. For, example, they can be devices for video communication, testing and medical equipment, traffic control systems, security and access control systems, process control systems. The StackPC* connector allows connection of additional expansion modules to CPC805.
Intel® Atom N450 processor is a highly integrated solution combining the processor core, DDR2 SDRAM memory controller and graphics controller with 2D/3D acceleration. This module provides great opportunity to work with graphics through VGA or TFT LVDS interfaces. There are two Gigabit Ethernet ports for the networking.
The module has up to 2 GB DDR2 memory onboard.
CPC805 processor module also has a set of standard PC interfaces: USB 2.0 ports, SATA, serial ports, CompactFlash socket, PS/2, audio and one multi-mode parallel port.
The components of CPC805 are carefully selected on the criteria of applicability in embedded systems and long-term availability in the market. This makes CPC805 an ideal device for building systems with long life cycle.
The module is compatible with MS DOS, Fastwel DOS, Microsoft® Windows® XP Embedded, Windows 7 (Windows Embedded Compact 7), QNX and Linux® operating systems.
Case study
Project Introduction
The industrial robotics development trends make it necessary to construct even more flexible systems which can perform various tasks quickly and cost-effectively. The ideal near future is that industrial robot designed to perform particular tasks should be capable of self-programming.
Requirements
Special requirements are also imposed on the electronic components
High performance
Ability to operate in salty mist and high humidity environments, as well as in high dust content areas
Operation under severe vibration conditions.
Possibility of operation at the extended temperature range.
Therefore such a system should be based on the CPU board equipped with a low-power high-performance processor, wide functional set of interfaces, extension capability by using standard boards, compact dimensions and at the same time it should be designed for harsh operating conditions.
Solution
FASTWEL CPC805 is a perfect match for such application.
This board is based on Intel Atom 1.66 GHz CPU with integrated graphics, supporting a wide set of interfaces and peripheral devices for the extension of their functionalities.
All the components are soldered on the board and form shock/vibration resistant structure. The board can also be covered with a protective coating.
The dynamic memory subsystem is consisted of the soldered DDR2 memory with 1 or 2 GB depending on the modification. The graphics and audio subsystems support simultaneous display of the image to VGA interface monitors, resolution up to 1400×1050 pixels and LVDS interface — resolution up to 1280×800 pixels, connection of microphones and usage of linear input-outputs. The storage subsystem enables to connect SATA-interfaces HDD or SSD to CPC805, use the onboard connector for installing CF and the 4 GB soldered NAND Flash disc. Two fully-functional Gigabit Ethernet Base-T channels enable to use the board in the advanced network infrastructure or for building systems with duplicated dual communication channels.
Peripheral devices can be connected to Fastwel СРС805 via 4xUSB 2.0 channels, 2-x RS-232 channels rooted to the front panel, as well as to 2-x RS-485/422 with a galvanic isolation and to the universal parallel port, rooted to the onboard connectors designed for cable installation. The PC/104 modules with PCI interface and the StackPC boards with serial interfaces can expand Fastwel CPC805 functionality. In addition, 2x RS-232 channels, 6xUSB ports, 2x SATA channels, 4×1 PCI-Express, SPI bus and some other service signals are rooted to the high-speed StackPC connector. All these interfaces can be implemented on mezzanine boards, which Fаstwel can design according to the customers' specification. The standard PCI-104 and StackPC extension boards will make it possible to add video cameras, wireless communication, global positioning system modules (GPS) etc.
Conclusion:
FASTWEL CPC805 processor board installed in the dust-/damp-proof housing can operate under the most severe operating conditions, providing high performance and a wide functionality.