Application Examples
3U Compact PCI Intel Atom N450/D510 based SBCs - Best choice to build your Ticketing System for Public Transportation
15.10.2012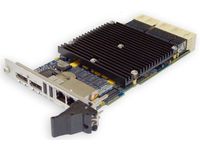 Overview
Rugged CPU board CPC508 (operating temperature range -40 … +85°C ) is a PICMG 2.30 "CompactPCI Plus" compliant 3U module based on Intel® Atom™ N450 or D510 and ICH8M chipset. Due to the low power architecture of the Intel® Atom™ processor, the CPU card has a low power consumption and high performance. A specially outlined heat sink efficiently takes away the heat from the board, even at the extended temperature range.
CPC508 is designed especially for systems which require low power consumption, e.g. as a computing platform for rugged industrial PCs in mobile applications or for infotainment applications, offering the whole world of Windows® and Linux based software.
On the CPC508 module high-speed interfaces of input-output are applied (PCI-Express, Gigabit Ethernet, DVI) and modern technologies for operation with video are supported. Modular creation of a product allows system flexible set up for specific scopes, optimizing thereby the price/quality balance.
The PICMG 2.30 "CompactPCI Plus" compliance allows to use 32bit PCI bus together with intermodule communication for high-speed data exchange: two Gigabit Ethernet channels, four x1 PCI Express lanes, 4 USB channels, 2 SATA channels.
For extended system functionality the mezzanine module MIC589 with video/audio interfaces, CAN and serial ports is used. MIC589 can be connected to the processor CPC508 module from both sides left and right. One of the most important advantages of such expansion unit installation method is that it is possible to connect less cables to the processor CPC508 module or to avoid them absolutely. This can make the installation and dismantling of the CPU module from system easier.
Case study
Public Transportation ticketing
Flexibility, simplicity, ease and time saving – these are the main consumers' requirements to the public transportation of now days. The integration of the surface (trains, buses, trams) and underground (subway) transports and therefore the creation of integrated ticketing systems enabling passengers to make one-stop-buys - remains one of the main tasks for the cities' authorities. Such ticketing systems can be based one SBCs which have to meet the following requirements:
be Compact and rugged

low power consumption

high performance

wide range of interfaces

wide operating temperature range
Requirements
The public transport ticketing systems are typically based on a small enclosure that contains an embedded or single board PC to which a variety of peripheral devices are attached. More and more frequently the only ports available on these embedded PCs are USB ports, yet a large percentage of the peripheral devices used in these systems are only available with a serial interface, or are far more economically purchased with a serial interface.
Solution
The Fastwel 3U CPCI board CPC508 with Mezzanine Carrier Module MIC589 has 4 standard serial ports, 2 CAN ports, up to 8 USB ports and 2 Gigabit Ethernet ports. The board is based on Intel Atom N450/D510 architecture and provides high performance with low power consumption. CPC508 is designed to work in harsh environments, such as extended temperature range (-40 … +85°C), resistance to shock and vibration, 50g / 5g (IEC 68-2-27-87; IEC 68-2-6-82).
Conclusion
The Fastwel CPU board CPC508 with MIC589 is a perfect solution for public transport ticketing systems