Products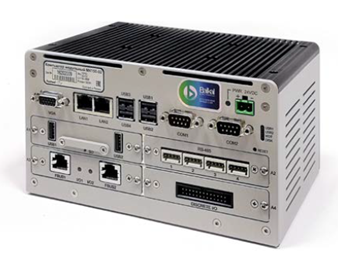 Baikal-T1 1.2 GHz MIPS32 (Dual Core) Based Modular Computer
MK150-02
- CPU Baikal-T1 1.2 GHz MIPS32 (Dual Core);
- RAM: soldered DDR3-800 MHz, 4 GB;
- Integrated SSD for 4GB;
- VGA with max resolution up to 1920×1080;
- Dimensions: 204.1х149х110 mm (with mounting to the
DIN-rail);
- Power supply voltage: 10 – 36 V;
- Power consumption: Max. 30 W (exclusive of the
peripherals);
- Software compatibility: Windows 10, Linux Debian 10;
- MTBF: 175,600 hours.
Sales & technical support
The MK150-02 is based on the CPC313 CPU Module and is designed for being used as a standalone computing device in Process Automation Systems. The device offers power supply voltage of 10 – 36V and has no moving parts. The computer is mounted on a DIN-rail or a mounting panel and has an operating temperature range from - 40 to +50ºС.
MK150-02

Baikal-T1 MIPS32 P5600 1.2 GHz, 4 GB DDR3 SDRAM; SSD 8 GB; 2 x Ethernet 10/100/1000 Mb; 6 x USB 2.0; 2 x RS232; 4 x RS422/485; DISCRETE I/O; 2 x FBUS; VGA; from -40 to +50°С.
Fields marked with symbol "*" are required to send the request to Support.