01.11.2021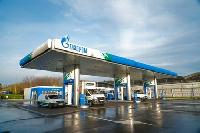 "Gazprom" is consistently developing the network of environmentally friendly vehicle gas filling compressor stations.
The new facilities joined the network of the environmentally friendly vehicle filling stations, which are actively used by housing and utility sector enterprises of Moscow, such as the State Unitary Enterprise Mosgortrans (passenger traffic) and the State Unitary Enterprise Ecotekhprom (removal of domestic waste and refuse), etc.
Viktor Zubkov, Chairman of the Management Committee and Director General of Gazprom Gazomotornoye Toplivo, noted that this project, while being important for the ecology and social sector, heavily used domestic equipment.
Fastwel experts confirm that the standard solution for automation of CNG filling stations based on the Fastwel I/O PLCs was developed as far back as 2015 and is successfully used to build new gas filling infrastructure facilities.
The network of Gazprom's CNG filling stations is dynamically developing in 62 regions of the country: from Kaliningrad to Kamchatka. Considering the range of climatic zones, the engineers faced a rather challenging task of selecting the equipment that would operate in various environmental conditions. In the course of the efforts focused on import substitution, the highly reliable Russian industrial equipment adjusted to adverse environmental factors, was selected.
Fastwel I/O controllers ensure reliable operation at the temperatures from -40 to +85°C and relative humidity of up to 95% at +50°C, non-condensing. They are resistant to vibrations within the frequency range of 10-500 Hz with acceleration up to 5g and are able to withstand single shocks with peak acceleration up to 100g and multiple shocks with peak acceleration up to 50g.
The number of Moscow-based CNG filling stations equipped with high-end technologies is planned to be increased in 2022.