White papers
StackPC - smart combination of advantages of PC/104, PC/104 Plus, PCI/104 Express and Computer-On-Modules specs - is a new approach to embeddable modules and systems development.
30.05.2014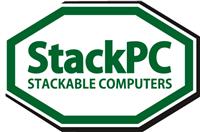 The StackPC Specification defines new approach to rugged (-40C-+85C) stackable systems design and development. The specification includes all valuable heritage of PC/104, PC/104 Plus, PCI/104 Express and Computer-On-Modules (COMs) specs along with the new features of StackPC connector.
The main competitive distinction of the StackPC connector is the combination of most popular low speed interfaces such as USB, COM, CAN, SPI, LPC and high speed SATA, Gigabit Ethernet and PCI-Express x1, x4 within one stack expansion connector.
This combination allows to minimize the number of wired connections inside the stack system enclosure and gives more design and manufacturing flexibility.
The StackPC modules are much easier to be designed due to the consistent stack up systems development only . This approach doesn't require placing high speed and low speed signal switches. The stack direction specifies the mechanical part on host and peripheral modules, which makes them cost-effective as well as easy to design, verify and use. The unified approach to stack power supply and communication interfaces output is aimed to increase the different vendors products' compatibility.
A number of StackPC modules will be released by Fastwel in the nearest future – CPC309, CPC350, KIC301, electrically and mechanically compatible to PCI/104-Express standard. Similarly, StackPC can be adapted for such well known form-factors as EPIC, EBX, 3,5" and others. An example of this adaptation is the already being sold Fastwel`s
CPC805
compatible to StackPC and PCI/104-Express general purpose modules.
About Fastwel
Fastwel for more than 15 years has been one of the leading companies developing and manufacturing rugged Single Board Computers for mission-critical applications in transport, security and telecom. We deliver CPU modules for aerospace equipment, industrial automation and process control systems. Besides standard products manufacturing, Fastwel offers a full range of OEM and ODM services. To learn more, visit www.fastwel.com .