Products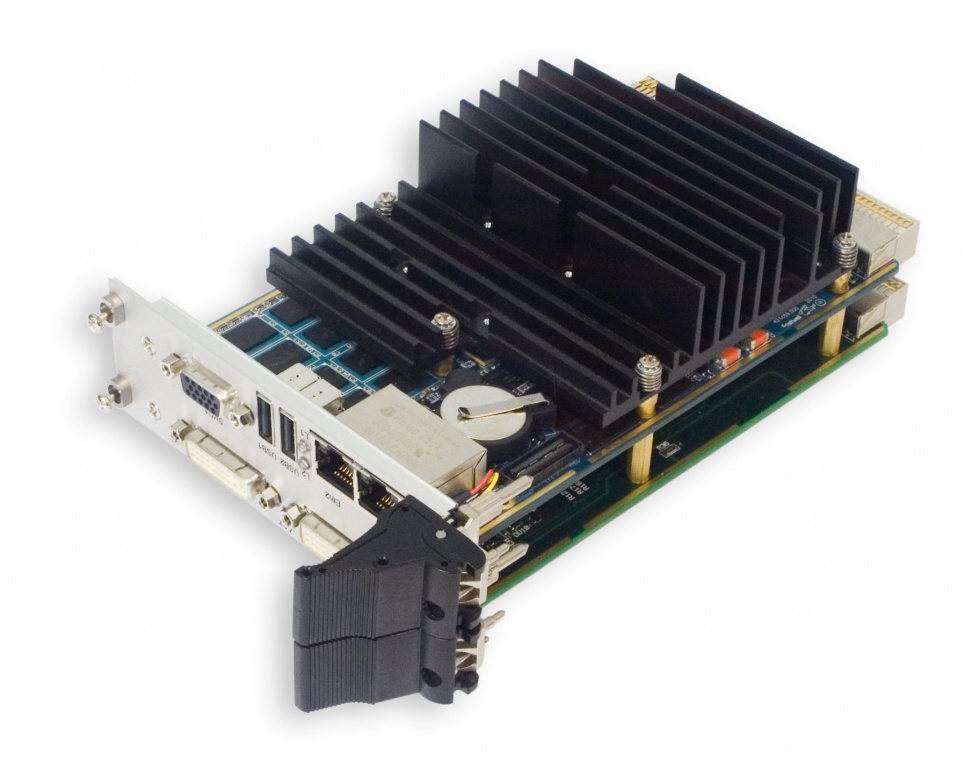 СPCI 3U 8HP CPU Module
CPC506
• Intel Core 2 Duo and Core 2 Solo processors (up to 2.2 GHz, 533 or 800 MHz FSB)
• Up to 4 GB soldered DDR2 SDRAM
• VGA graphics, resolution up to 2048x1536
• Dual DVI-D interface, up to 1600х1200 (8HP and 12HP versions)
• Intermodule communication (PICMG 2.30): 32-bit PCI bus, 4 x1 PCI Express, 2 SATA II, 4 USB 2.0
• Two Gigabit Ethernet ports switchable between front panel and backplane
• Soldered 4 GB NAND Flash with IDE interface
• SD card slot with USB 2.0 interface
• Increased heatsink versions for passive cooling
• MIC584 mezzanine module: 1 SATA II, 6 RS-232/485, 2 USB, PS/2
• Protective coating (optional)
• Multiple shock / vibration stability: 50g / 5g (IEC 68-2-27-87; IEC 68-2-6-82)
• Operating temperature range: –40...+85°С or 0...+70°C (IEC 68-2-14-84)
• Linux, QNX, and Windows XP Embedded support

Sales & technical support
CPC506 is a PICMG 2.30 "CompactPCI Plus" compliant 3U module based on Intel Сore 2 Duo CPUs (from long term manufacturing program) operating at up to 2.2 GHz with 4 MB level 2 cache, featuring
800 MHz system bus and 965GME/ICH8M chipset. The processor executes up to 8 floating point operations per clock cycle and can address up to 4 GB of soldered DDR2 system memory in 64bit mode.

An increased heatsink for CPU and chipset cooling allows efficient heat dissipation within wide ambient air temperature range.

CPC506 is PICMG 2.30 "CompactPCI Plus" compliant and allows to use 32bit PCI bus together with intermodule communication for highspeed data exchange: two Gigabit Ethernet channels, four x1 PCI Express lanes, 4 USB channels.

The graphics controller of Intel 965GME supports output of two independent video streams to two DVID interfaces (8HP modification) or to standard VGA interface.

The firmware of CPC506 supports booting from LAN, from SD cards, from soldered 4 GB flash memory disk, or HDDs, installed on CompactPCI Plus carrier (KIC550) with SATA support, or from drives located on MIC584 mezzanine module. The MIC584 mezzanine module supports SATA II interface with option to mount 1.8" SATA disk drive, SATA DOM solidstate modules and also offers six COM ports, two USB 2.0, PS/2 and audio interfaces.

CPC506 supports Linux, QNX and Windows XP Embedded operating systems.
CPC506 - 01

NAND Flash 4096MB, no 2xDVI - D

CPC506 - 02

no NAND Flash 4096MB, no 2xDVI - D

CPC506 - 03

NAND Flash 4096MB, 2xDVI - D

CPC506 - 04

no NAND Flash 4096MB, 2xDVI - D

Expansion Capabilities:
KIC550

Interface Module

MIC584

Expansion module for CPC506

VIM552

Graphics Controller
Cables and connectors
Components for embedded systems design
Fields marked with symbol "*" are required to send the request to Support.